All works
Hub Awards
case study
Client:

Hub.brussels

Organisation of the 1st edition of the hub.awards, a ceremony that rewards companies in Brussels that stand out because they dare.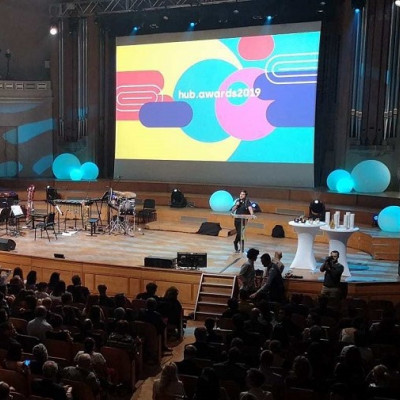 Background
For their fifth edition, the Brussels Best Exporters awards gained new momentum, being now run under the leadership of hub.brussels.
Mission
VO was entrusted with the organisation of this award ceremony. This new dynamic brings new challenges for hub.brussels, namely:
A new brand to be established under the name of the hub.Awards.
An event that is taking on a greater dimension, with the aim of capitalising on the previous editions of the Brussels Best Exporters, and the opening up of the awards to all Brussels-based companies for the first time.
Recognition, by hosting the event at the Bozar's legendary Henry le Bœuf hall, and the expectation of some 1000 guests.
Response
VO Citizen developed the creative and artistic concept for the evening based on the theme of the heart and its beats / a 5th h (heart) in addition to the 4 already integrated into the values of Hub Brussels.
The heartbeats here symbolise both the rhythm of a company's life, its vital force, its entrepreneurial spirit and also the beating heart of the Brussels Region, a driving force for companies far beyond its borders.
As the event was broadcast live on BX1, VO Citizen deployed all its expertise to make the ceremony a flawless success and to observe the planned timing to the second, offering guidance, rehearsals and coaching of speakers, including the two presenters Walid and Yasmina El Messaoudi.
During the evening, VO also organised the public award via a live voting system.
Result
A real success for this first edition of the hub.awards. A dynamic ceremony widely appreciated by all its participants.