All works
Barlos
case study
Client:

Mobility.Brussels

Brussels Mobility's hard-hitting campaign to raise awareness among young people of the risks of driving under the influence.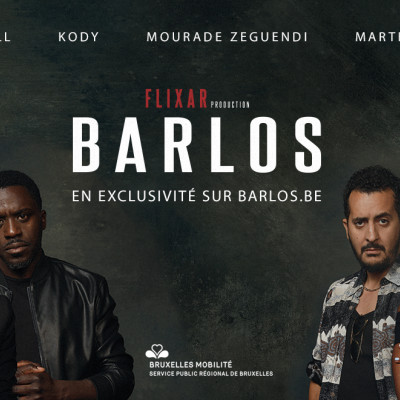 Background
The use of alcohol, drugs and medication has a detrimental effect on driving. Whether in a car, on a bicycle or on a scooter, this high-risk behaviour is mostly committed by men aged 18 to 30. In 2019, alcohol and drugs were responsible for 11% of accidents in Brussels and, in Belgium, 25% of road deaths victims were young people.
For Brussels Mobility, it is high time to put an end to these alarming statistics. The BARLOS campaign is therefore aimed at sending out a strong but light-hearted message to remind people of the risks involved and the rules to be observed.
Mission
To raise awareness among young (and not so young) Brussels residents of the dangers of driving under the influence (of alcohol, drugs, medication). Brussels Mobility aims to remind people that there are numerous checks, effective tests and severe penalties, particularly for young drivers and repeat offenders - and, in the event of an accident, physical injury.


Response
Strategy development and creative concept
Research and recruitment of 4 popular youth influencers
Production of the various campaign materials: 3 films, 4 interviews, www.barlos.be website, 360 2m2 posters, 2 STIB buses, online banners, social networks
Purchasing and media partnerships (Vice)
Press relations
VO Citizen opted for a hard-hitting approach that speaks to the Netflix generation: the launch of Barlos, a fake police series that has a 100% Brussels vibe.
Sleek staging, careful lighting, effective editing - the campaign played brilliantly on the cinematic codes of successful American series, with the enthusiastic involvement of Brussels influencers: Kody, Martha Da'ro, Mourade Zeguendi and Silent Jill.
To fuel the rumour of the series launch, VO Citizen broadcast a teasing video (available here) on social networks, while posters all over the capital announced the arrival of a new series, developed by the mysterious production company Flixar...
As in any good series, the key to the mystery was finally revealed a week later, with the broadcasting of the 3 episodes - on the website barlos.be, YouTube and social networks - and a poster campaign (2 m² JCDecaux and STIB bus) in which the heroes of the fake series reminded people that the road is not the right place to be a "barlos" (idiot). Nothing was left to chance to ensure that the illusion was perfect and the customer delighted.
Result
44 appearances in the press: 27 on the web, 6 on television, 5 on the radio, 4 in print, 2 on newswire. The campaign generated an Advertising Value Equivalency of €352, 860.05 in press coverage, for an investment of less than €8,000. 488,000 views on YouTube (as of 10/08/2020), with a viewing time of more than 80%, for films of 1'30" - an exceptional number. 278,553 views on Facebook and 259,917 on Instagram. Website - 22,250 unique visitors on barlos.be (as of 12/08/20).
Advertising Value Equivalency