All works
Crime Prevention
case study
Client:

bps-bpv.brussels

Conception, organisation and coordination of the 6th international conference on Crime Prevention.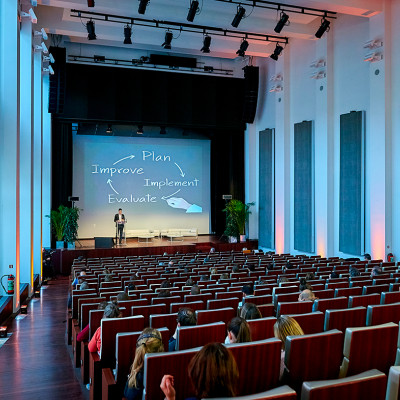 Background
Under the auspices of Brussels Prevention & Security (Bruxelles Prévention & Sécurité; BPS), the 6th international conference dedicated to the monitoring and analysis of crime was held in Brussels. Within the framework of this collaboration agreement, the Royal Museums of Fine Arts hosted the International Conference on Crime Prevention on 4 to 6 November 2019.
Mission
Brussels Prevention & Security commissioned VO Citizen to look after the general coordination of the conference and to take care of the communication aspects of the event.
Response
VO Citizen organised a conference on 4 and 5 November, based on 5 plenary sessions and offering 12 workshops in parallel. Field visits were also organised on 6 November to enable participants to meet industry stakeholders in Brussels.
In terms of communications, VO Citizen initially worked on the creation of a graphic identity. This identity was then applied to the design, the decoration and the communication media used. VO Citizen finally produced documentation to support the conference content and translated it into English, French, Dutch and Spanish.
Result
This event brought together a large number of stakeholders in the international prevention and security sector.
Brugel.brussels
Campaign to raise the profile of Brugel's litigation service.
Mobility.Brussels
Brussels Mobility's hard-hitting campaign to raise awareness among young people of the risks of driving under the influence.